CWP Among Top 500 Diversity Business in the US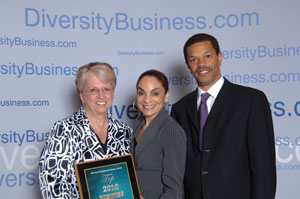 Century Wire Products Corp. was honored as one of the top 500 diversity businesses in the country at a conference in Washington, DC hosted by diversitybusiness.com.
Danielle Dupuis, President, is pictured here with Kenton Clarke, CEO of diversitybusiness.com and Jasmine Guy, actor/director who were the celebrity hosts of this national business conference.
Approximately 700 people attended the 3 day meetings with Dell, AT&T, IBM, Home Depot, etc. and the Federal Government agencies as recipients of corporate awards.